In Memory
Amy Gibson (Wooten)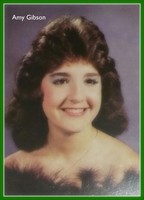 Amy Lynn Gibson Wooten was born on November 20, 1968 in Nederland, Texas, to parents, Travis and Deanna Gibson. She passed away at her home in Livingston, Texas on May 28, 2016.
She is survived by her paternal grandparents, H.S. and Velma Gibson; her parents, Travis and Deanna Gibson; her children, Hope Elizabeth Rodriguez and Sidney Bowdoin Rodriguez and Misty; her grandson, Leland James Rodriguez; her brother, Marc Gibson; an uncle, Michael Gibson; her aunts, Janis Cobler and husband, Lewis, and Shirley Deane; five cousins, two nieces, one nephew, and her beloved furry companions, Stella, Oscar, and Cracker.
Amy was preceded in death by her maternal grandparents, Douglas and Eula Deane and her uncle, Douglas Deane, Jr.
Amy moved to Livingston in 1973 with her family. All of her school years were spent in the Livingston schools, graduating from high school in 1987. She graduated from Sam Houston State University with a degree in Finance and certification in Criminal Justice. After a year of internship with the Field Office of the Federal Bureau of Investigation in Houston, Texas, she had a distinguished career as an Intelligence Research Specialist with the same FBI office. Work in this field resulted in Amy receiving the FBI's highest award, The Director's Award, in 2004.
In lieu of flowers, donations may be made in Amy's honor to the Livingston SPCA or any organization dedicated to helping homeless persons or animals.